History
Here's how it all began...

In September 1985 during a vacation at Venice Beach, near Los Angeles, I was captivated - not by one of those highly original street artists populating the area around Santa Monica, but by a vision I saw on the enormous sidewalk along the beach.An "incredible four-legged humanoid" was coming towards me and, standing on a skateboard, it was following its owner on roller skates. I ran towards the two and shouted: "WOW, fabulous!", and the boy pointed his finger at the dog following him and exclaimed, "Yeah! It's an AM STAF, an ALL-AMERICAN DOG!".
So I met my first American Staffordshire Terrier.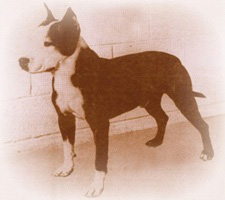 I'll never forget how it looked at me, nor its expression: straight in the eye, friendly, loyal, intelligent and proud. The dog had never laid eyes on me before but it was delighted to see me!
Now, more than twenty years after that first encounter, with growing passion, knowledge and experience - and the FCI name "DE PACO X-Z" - I am persevering with the one and only dog of my life: the AmStaf!
I have built my own basic breeding stock to work on selection, carefully obtaining the finest studs from registrations that can be verified in the United States at the American Kennel Club, such as my Bitches Foundation: Schaller's April April of X-Pert and Schaller's Cash on Delivery of Pecan (breeders: R. Lacis & H. Schaller), Fraja NE Cinnamon Twist and Fraja NE Raging Moon (breeders: Dwayne & Lydia Castagna) and, also from the US, the champion stud One Stone Sonny De Paco. Thanks to the advices of the great old-timer John "Mr.Legend" McCartney, breeder and handler, founder and curator of the original Fraja EC' line. Before I started "producing puppies", I waited eleven years - the time it took to study this breed.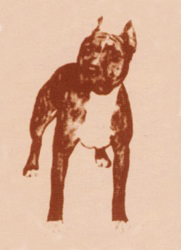 In 1994 I went to New York State to meet one of the founding fathers of the breed, Clifford Ormsby, and his wife Alberta (X-pert Kennels founded in 1930).
I will be eternally grateful to this couple - both nearly ninety years old at the time (they passed away in 1996 and 2001, respectively) - for having taught me about the spirit of the AmStaf breed. I remember what Cliff used to love to say to breeders who visited him: "If you want to be a breeder, act as a breeder". And in reference to the "True AmStaf ", he would say: "Once you have the head, everything else follows". And "Bert" - Mrs. Ormsby, the first breeder - judge, would add that "White feet are tight feet".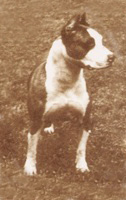 Other major contemporary breeders to whom I owe a great deal and who had an influence on my breeding program are Richard Pascoe of the "White Rock" kennel, Hendrix Harper of "Tonkawa's", Fred Sindelar of "Sindelar's", my mentor Bill Peterson of "Willynwood's, Wayne D. Brown of "Brown's Tacoma", and my good friend Mrs. Gigi Sager of "Rowdytown's".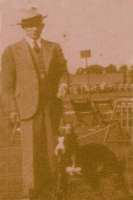 Mr. Wilfred T. "Bill" Brandon deserves most of the credit for the American Staffordshire Terrier having A.K.C. recognition. He was the principal player in forging a breed standard.
Thanks a zillion Mr. Brandon



" Share your knowledge it is a way to achieve immortality in the breed."
Foundation
Click here to visit the page "Foundation".
The immortals
The Fifty Greatest Am Stafs of All Time: